Industrial Metal Exploration – Gypsum
Aurum Exploration Services Work On Their First Gypsum Project In Angola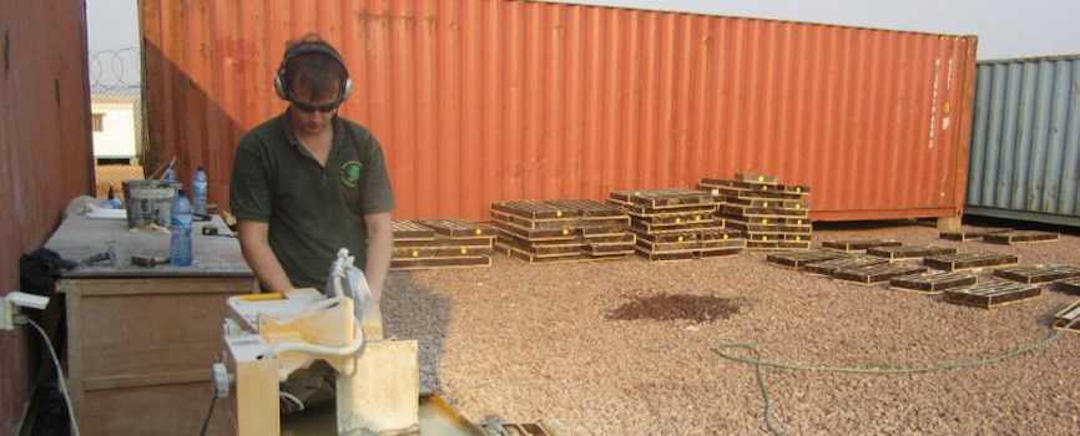 A consortium of three major companies – two local Angolan partners and a German firm – are investigating the gypsum potential of the country with the aim of identifying a 5 million tonne resource of suitable quality gypsum to supply the nation's first indigenous plasterboard manufacturing plant.
The group chose Aurum Exploration Services to lead the exploration project as Aurum have been operating in Angola since 2005. The positive reputation acquired during that period resulted in Aurum being recommended to the consortium by Micon International Limited.
Senior geologist Graham Parkin led the Aurum team working in Angola to complete the project.
CHALLENGES
The project was an exciting new challenge for Aurum as this was the first time the organisation has worked on a major gypsum resource.
The team of Aurum geologists faced several challenges during this project:
The preferred quality of gypsum for plasterboard is > 85% purity with strict limitations on certain other impurities/undesirables, therefore finding a suitable deposit is challenging in itself
Understanding the particular parameters of gypsum quality for various end uses and the economics of a gypsum deposit
Due to concerns over impurities and dimensions of the initial target, a secondary target had to be identified
Locating a laboratory which could carry out the appropriate analyses at a cost effective rate
Based on results from limited drilling and geological mapping a drill programme had to be designed and completed to provide adequate data to define an initial resource
SOLUTION
The team, made up of three Aurum geologists began the on-site exploration process. They were supported in country by the client and with technical support and guidance by the project manager and technical staff in the Aurum office in Ireland. Outside expertise was sought from recognised gypsum experts where necessary.
RESOURCE DEVELOPMENT
The primary target area was found to be unviable, so the Aurum team identified new targets using our knowledge of the economic geology of Angola and created a grass roots prospecting and mapping plan
The team identified a target close to an existing area previously mapped by Aurum
Aurum geologists mapped and prospected the target. Gypsum was identified at surface over a wide area and a test hole was drilled, yielding positive results.
A further phased drilling programme was designed in order to determine whether the amount of suitable quality gypsum was likely to represent a 5 million tonne resource
Drill core was sampled according to industry best practice and in a manner designed to minimise costs to the consortium, preserve geological integrity and generate the best possible dataset to interpret
Based on positive results from the initial programme, a further drilling programme has been completed from which a resource model will be developed in 2013
RESULTS
This project is on-going, pending on results of the drill core analysis from the most recent phase of drilling and a resource estimation will be prepared for the client in Q3 2013.
Industrial Metal Exploration – Magnesite
Industrial Minerals Company – Al Ghazala (Al Ghazala Magnesite (Zarghat)
Aurum was engaged by Industrial Minerals Company (IMC), a subsidiary of the Saudi Arabian Mining Company (Ma'aden), to complete a revised resource estimation on the Al Ghazala Magnesite deposit at Zarghat.
Aurum had previously been involved in a resource estimation for the project, in association with Golder Associates (Goncalves 2013).  The 2013 report was based on a 2011-12 drilling programme carried out by Ma'aden Exploration to provide infill drilling data over all the magnesite bodies at Zarghat to enable the reporting of the Resource and Reserves to JORC standards.  Earlier resource and reserve statements prepared for the deposit are not in accordance with current JORC requirements.
Aurum consequently worked with IMC to develop a further drilling programme, completed in 2014-15, aimed to infill the Central Hill and South Lens zones in support of a revised resource estimation to bring the resource from Inferred to Measured status under JORC 2012, as part of IMC's on-going work to develop a new Reserve Statement in accordance with JORC standards and longer term mining plan for the project.